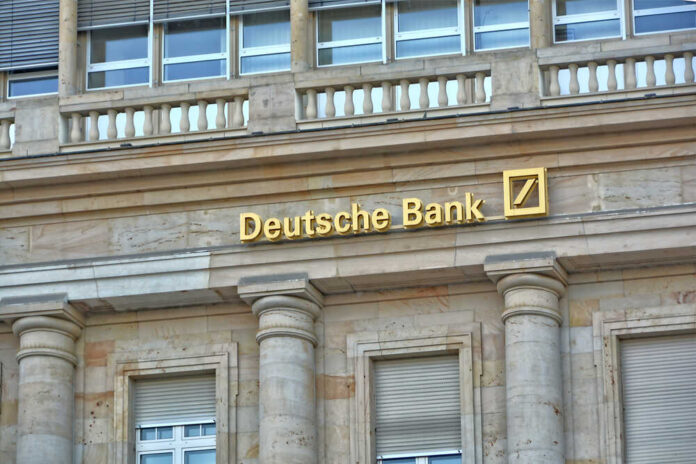 Deutsche Bank this week agreed to settle a class action lawsuit brought by victims of the late financier Jeffrey Epstein for $75 million, the Associated Press reported.
Deutsche Bank was sued late last year by an unnamed victim of Epstein who represented a class of plaintiffs accusing the bank of knowingly facilitating Epstein's trafficking after the convicted pedophile was dropped by JPMorgan Chase in 2013.
The suit accused Deutsche Bank of choosing profit over following the law, alleging that the bank ignored red flags like large cash withdrawals and payments to young women.
In a statement from the law firm representing some of the women in the class action, the settlement will enable Epstein's survivors to "restore their faith in our system" by knowing that those who "facilitated" Epstein's trafficking operation will be "held accountable."
Deutsche Bank would not comment on the settlement directly. Instead, Frank Hartmann, Deutsche Bank's global head of media relations, told the Associated Press in a statement that in 2020, the bank acknowledged its error in taking Epstein as a client. Hartmann said the bank has since invested over 4 billion euros to "bolster" controls, training, and processes while hiring more workers to combat financial crime.
JPMorgan is also facing a class action lawsuit from Epstein's victims, as well as a separate lawsuit from the government of the US Virgin Islands where Epstein's private island is located.
In the class action filed last November, the plaintiffs alleged JPMorgan Chase enabled and benefited from Epstein's trafficking operation by giving him "special treatment" when he was a client. The suit argues that Epstein's trafficking operation would not have existed but for the participation of JPMorgan Chase.
The Virgin Islands is also accusing JPMorgan of helping to conceal Epstein's decades of abuse while enabling Epstein's recruiters to pay his victims.
JPMorgan Chase has denied the allegations and has sued former JPMorgan executive Jes Staley, accusing him of hiding Epstein's trafficking operations to maintain the convicted pedophile as a client.